Discussion Starter
•
#1
•
Hey all.. First I would like to say I greatly appreciate the concept and people who make this forum possible. I've came here many times to get answers or check out peoples project quads for idea's or just inspiration.. I used my tax money this year to get a trx 250r its a 86' and I paid 1300$ when I bought it.. I've always wanted a R and ever since I was on a 80cc riding back in the late 80's early 90's my fathers friend had a 250r and i've drooled and sworn to own one myself ever since!# lol.. so now I finally got one and the previous owner was a shame to all 250r's in general. Thank god I gave it a once over because everything was loose, he didnt mention a few issues when selling it. So after doing the initial fix up I decided to do things right and tear it completely down and piece by piece fix, polish, paint, clean and get it back together looking the way I want it to and to have the pride in it that it deserves..
It had a ATC motor on it I know by the engine serial# and I first noticed inside the sleeve, but needless to say shortly after riding it when I first bought it.. it was leaking coolant into the bottom end and seemed to be running way to lean which I only learned after maybe 5 hours of riding it and then she blew up. Most of the things I need are not engine related. I can give a list, but first want to see if anyone is interested in offering any spare parts. I would of course pay shipping and i'm pretty broke and hate to ask but I see guys on this forum offering things all the time so maybe helping each other out is the way it goes around here!
Anywho without further blabbing.. I will attach a before and after picture of what the quad looks like so far.. If anyone is willing to help out just post and if I see indeed some help coming my way I will make a list of everything I need to get going..
Here is the before picture:
and although it may not look like it I have already done a lot of tender love and care with only 50$ spent so far which included paint, number plate and numbers and a couple wire wheels or clean up tools.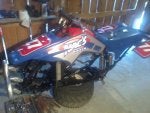 I think so far its looking pretty sweet and im totally stoked about it!
Anyways!! thanks guys.. I understand either way it goes.. I'll keep checking here to see if anyone replies to this thread.
-Kenny